"Oh, I didn't know you could only wear the crampons on ski boots" -Kelli
Quick Look
Trip Date: July 3, 2020
Mode of Travel: Day Trip from Boulder
Hike/Ski: Just under 5 hours for ~5.72 miles (we were at a leisurely pace)
Snow: The best July snow we've ever skied - a few runnels but some smooth spots, a little slushy (would go earlier than we did)
Fresh Snow During Trip: No, but let's be honest, not expecting that in July
Full Report: Trip Planning, Getting There, Hiking and Skiing
Trip Planning
My cousin Shelby and her fiancé Andrew are true weekend adventure warriors - they ski, rock climb, ice climb, mountain bike, road bike, trail run, backpack, and more! They embody work hard, adventure hard (because they do so much more than ski). And have plenty of gear to make sure the friends who want to adventure with them can learn and try new things. We always have to be ready to try something new or challenging when we adventure with them (which is probably why I love it so much). They're amazing at planning trips and finding cool places. So when they asked if we wanted to summer ski together, I decided to help find a spot since they normally do a lot of our trip planning. Based on information from social media, it looked like Radiobeacon Peak had some good snow. With google search, I found a page on Front Range Ski Mountaineering that made it seem like it could be a good option. Fairly short hike and what looked like a fun ski. We felt confident that we'd have a nice hike and at least find a patch of snow to take some turns.
Getting There
Based on what we know from the other side of Rollins Pass (which starts by Winter Park), we knew we would likely need 4WD and good clearance. Good thing Andrew has a 4Runner. We met up at the Moffat Tunnel East Portal parking lot and loaded up Andrew's car at 6:40 am. This was the first time we were in someone else's car since March, it was very odd to sit in the back seat. If we thought my car would've made it, we would've driven separately but last year on the other side of Rollins Pass, we caused a coolant leak underneath my car. The road is 12 miles of one-way rock covered road that takes 30 mins according to google maps. Our end goal was the parking area at Forest Lake Trailhead, but we never made it there. After crossing a small mound of snow, we ended up behind a few cars parked above Yankee Doodle Lake, behind an impassable mound of snow. When we parked, we met up with Shelby and Andrew's friend Zach.
Hiking and Skiing
At the car, we agreed on what gear we would bring - yes to crampons and ice axes, no to skins and ski crampons. I always like for everyone to agree on the gear we take so that we are all in alignment about our options for approaching (more on this later).
We followed the summer road to the Forest Lake Trailhead about 1.5 miles. There were some sloped patches of snow ("worse comes to worst we'll ski one of those", I said). We had hoped for a nice short hike, but when you find a summer line that says it is going to be a 1.2 mile hike, know that it is too good to be true. Any good one will take you a few miles to achieve, so always be prepared to hike extra.
From the road we had a view of the Radiobeacon Peak area, it didn't have as many continuous lines as we thought it would. [A tip I have learned from past summer ski adventures is to take a picture as you approach to help you later on decide lines.].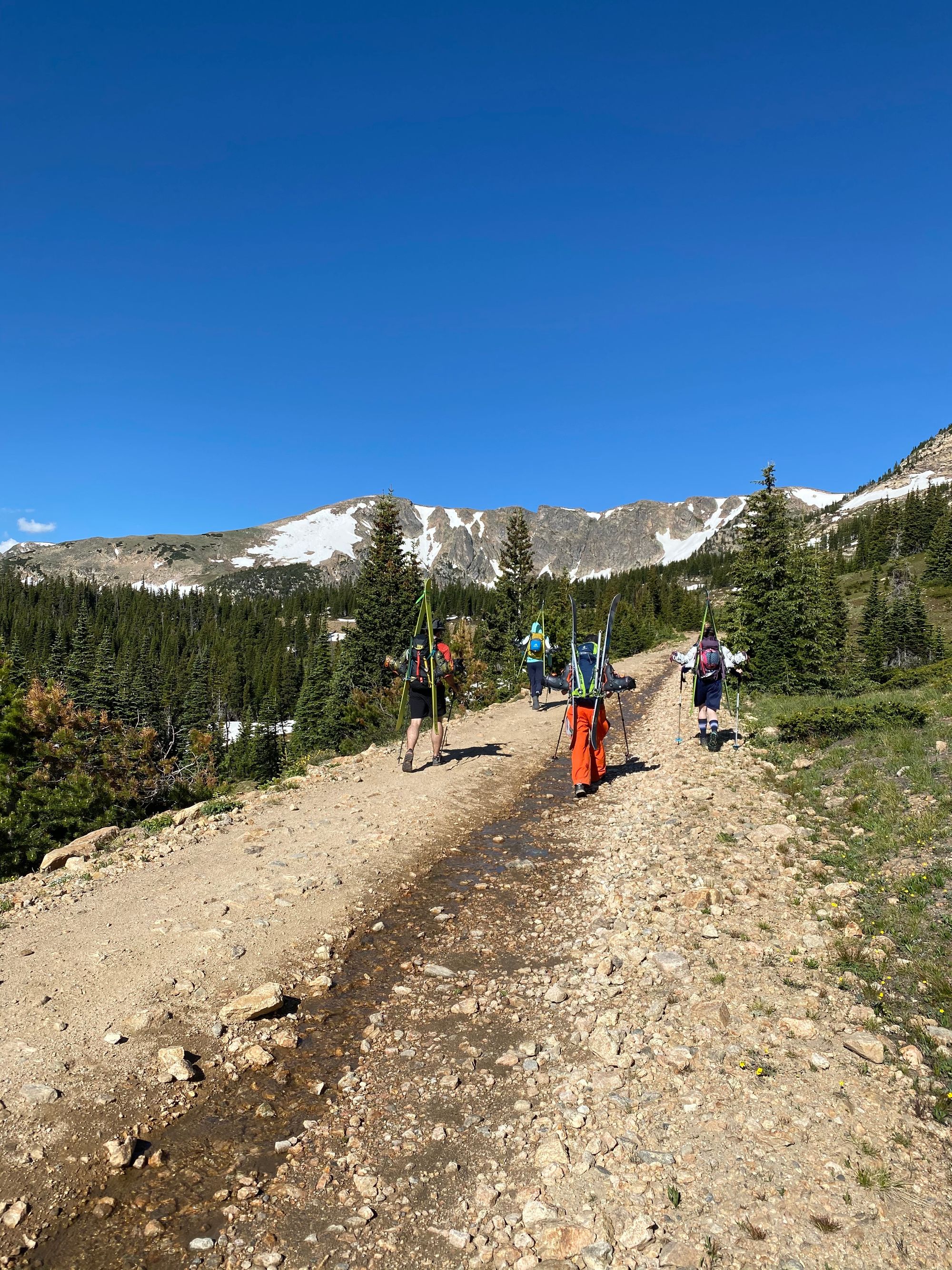 As we started out on Forest Lakes Trailhead, we started to discuss the fact that we may have to follow the snow vs. the original plan. It seemed it would be a "follow the snow" day, as most in July are. We examined the topo map and agreed that it felt like towards Forest Lake, if there was not enough snow, we would end up scaling rock, which didn't make much sense. I'm not sure if that's true, but that's what it looked like.
Instead, we decided to head more right along a trail/goat track towards a small lake to the right of the one we had planned to go to. We headed up towards our destination, and reached a decision point: to the right we saw a sloped rocky and grassy route, then we would traverse the ridge to the area we wanted to ski, or to the left the area we would ski and we would snow climb the couloir. We had a quick discussion and went left to test the snow. It wasn't until the others were putting on their ski boots that I realized we'd have to snow climb in our boots because that is what the crampons fit. Whoops, Jacob's backcountry boots are still very uncomfortable and this would be miserable for him - even after skiing down St. Mary's he has to take them right off.
Since we had our walkie talkies, we decided that Jacob would climb the area to the right of the snow (sadly, a harder slope than the one we saw from our decision point) and traverse the ridge to where we wanted to ski. It was a bit of a rough hike for him - he had to traverse loose scree until he reached more grassy patches, but the ridgeline was wide and much easier. We checked in via walkie talkies the whole time. We could also see him in his bright orange bibs which was comforting.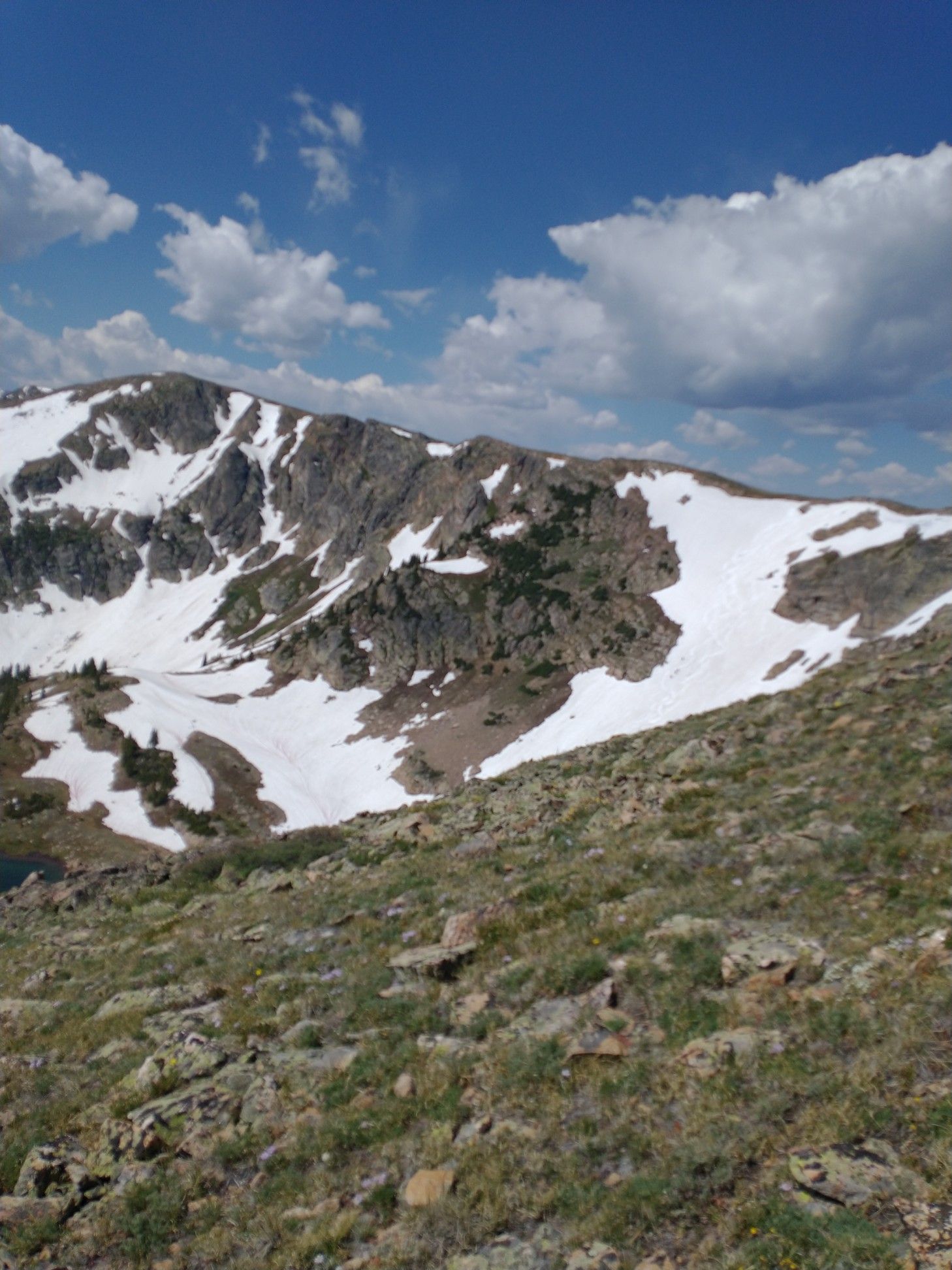 We snow climbed straight up and I loved it! Shelby taught me how to use the ice axe. We went in a line and kicked steps into the snow. I really enjoyed it, as long as I didn't look back – I wasn't afraid. It was amazing how fast we could get up that way. It took us about 30 mins to the top. And getting over the cornice at the top was definitely the worst/hardest part. Jacob arrived just as I was getting over the cornice (he had a headstart as we snacked and dilly dallied at the bottom before heading up). Our timing was perfect, yet we could see dark clouds far out so we had to hustle down.
The snow was amazing for July! It was smooth and soft if you found the right spots. It was maybe a bit too slushy, next time we would aim at the top when it was a little firmer but we had a great ski.
Then our hiking boots went back on and we headed back out towards the car. My legs were definitely tired and a little shake going down hill after the calf workout from the snow climbing.

Overall, we'd highly recommend this area - but bring a printed map with contours or use a gps tracking app like Caltopo or Gaia in case you have to change your plan. And as always, don't push it - there may be little avy danger in July but there are afternoon storms. Turn around when anything rolls in, summiting isn't worth getting struck by lightning (and likely dying). We saw people at the trailhead just starting to hike soon after we heard thunder, don't be those people. Stay safe, have fun and get in your July turns!