"They feed the birds here. It's a thing" - Kelli
Jake's Hot Take
Lots of nice trees and fluffy powder, but not many steep bumps
Trip Date: December 25, 2019
Travel Info: About 3 hours from Denver (extra 15 mins from Boulder); About 5.5 hours from Park City
Days Skied: 1
Accommodations: Hampton Inn in Steamboat Springs
Lunch: Packed Clif Bars, does that count as lunch?
Après Enjoyed: Nope, we headed to Park City (It's a great stop over when driving from Denver/Boulder to Park City)
Fresh Snow During Trip: Yes, just a few inches but continued to come down during the day
In This Blog: Getting There (and to Park City), Skiing, Lowdown on Lodges and Accommodations
Getting There (and to Park City)
We normally cover getting to a mountain and back, but in this case, we stopped in Steamboat to ski on Christmas Day on our way to Park City. It's just over 3 hours from Boulder to Steamboat. We drove on Christmas Eve, with no traffic and no bad weather, it was an enjoyable drive. Rabbit Ears pass can be a bit sketchy if there is a bad weather, so definitely check the forecast and plan for delays/storm conditions if there is a storm brewing.
After an awesome day of skiing (more on that below) we headed to Park City. Pretty uneventful drive, about 5.5 hours.
Sites included:
Hayden, CO: a brand-new Kum & Go gas station with a nice, clean bathroom with fancy Dyson hand dryers
Craig, CO:  in a distant snowy field there were some kids on a tube being pulled by a truck – guess that is what you do out here on Christmas
Rolling snow-covered hills for over 100 miles on 40 west, we spotted a few deer
Close to Vernal, UT: a gas station chain called Maverik, who's tagline is "Adventure's First Stop", it was outdoor themed complete with murals and a kayak hanging from the ceiling as decoration
Also, close to Vernal, UT: Google Maps navigated us on County Roads in which we experienced non-plowed, snow covered roads, yet great Christmas lights. Even with the enjoyable and impressive lights, we would recommend staying on Rt 40 until it turns to Rt 191 (picture below of the way you shouldn't go)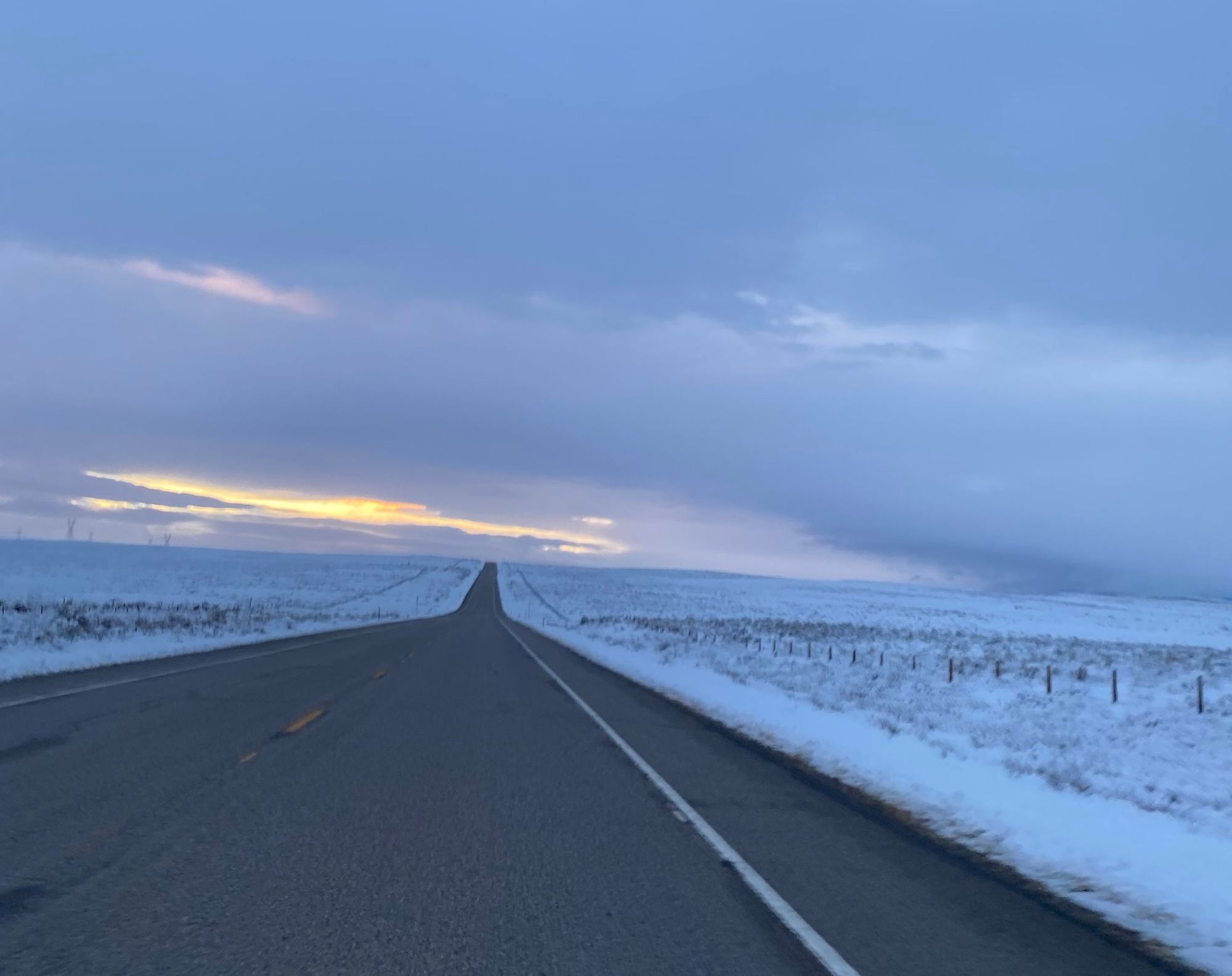 Skiing
Back when Steamboat was owned by American Skiing Company, my family took a few trips out to Colorado since it was on the same ski pass as our home mountain, Mount Snow. I have fond memories of flying down the runs and cruising through the trees with one of my sisters and cousins. I skied there a few days last year, including an amazing powder day. But I also know it's a lower-altitude mountain, so I tried to set realistic expectations and avoid being disappointed.
Steamboat is great for families (Jacob also visited with his growing up), there is varying terrain to make everyone happy. Everything from long green runs to steep tree runs. There aren't a lot of steep groomers or bump runs (a la Peak 10 at Breck) except for a few off Pony Express, which wasn't open this trip. However there are plenty of blue and blue/black runs – including some of my favorite relatively low-angle, mellow trees.
We woke up on Christmas morning to a fresh dusting, which a nice surprise (we hadn't checked the weather). By the time we hit the slopes, it seemed more like 4-6 inches. Having skied Steamboat before, we knew where we wanted to go.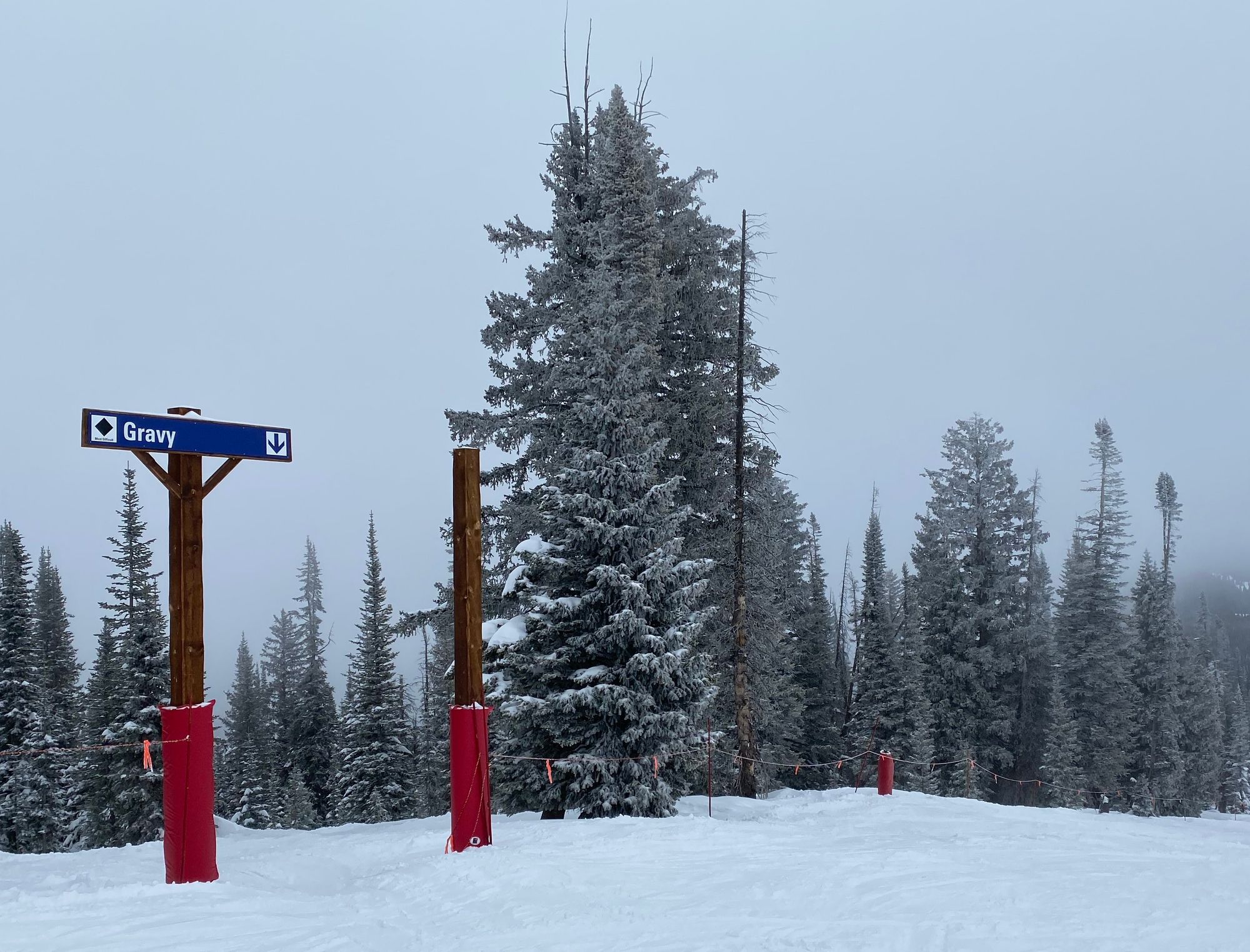 We like to think of Steamboat as split up into four sections: below the gondola, the front lookers right section, the front lookers left section and the backside. It's best to ski the mountain by each section, especially for areas like Sunshine Express or Storm Peak Express/Four Points. But there are also some loops, to explain all our favorite spots, we have written a separate blog post (including annotated maps). Check out our Where to Ski: Steamboat Resort Blog Post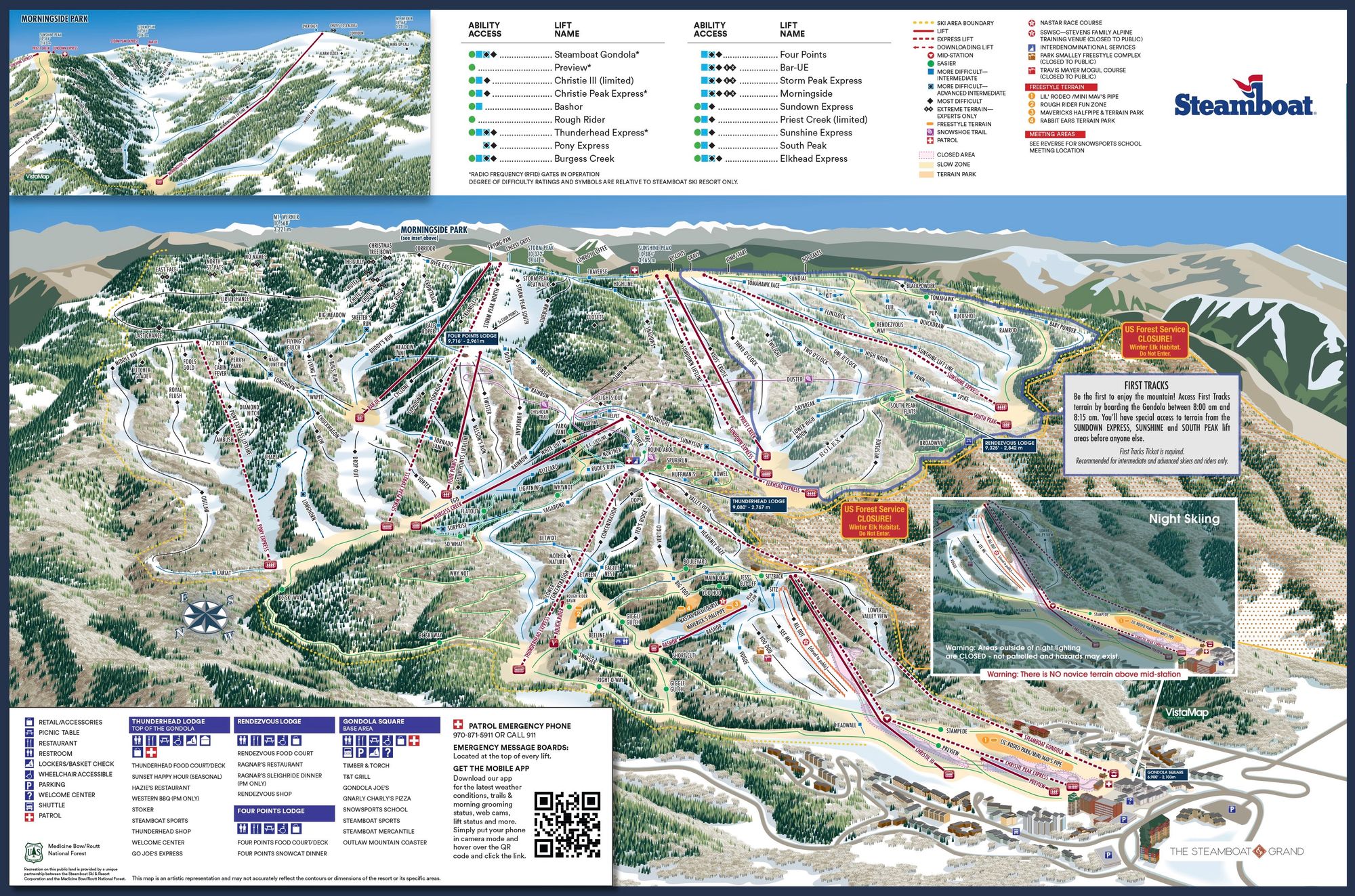 Our favorite loop, (which we describe in the other blog post) includes the Morningside Lift. Here you will likely see people in the lift line holding a hand in the air, sometimes with some granola or bird seed in their palm. Then the birds will land on their hand. We don't condone feeding the birds, and we don't think the forest service would either but it's definitely some unique lift line entertainment! (I am also scared of birds, so I appreciate this entertainment from a distance and don't encourage Jacob to participate)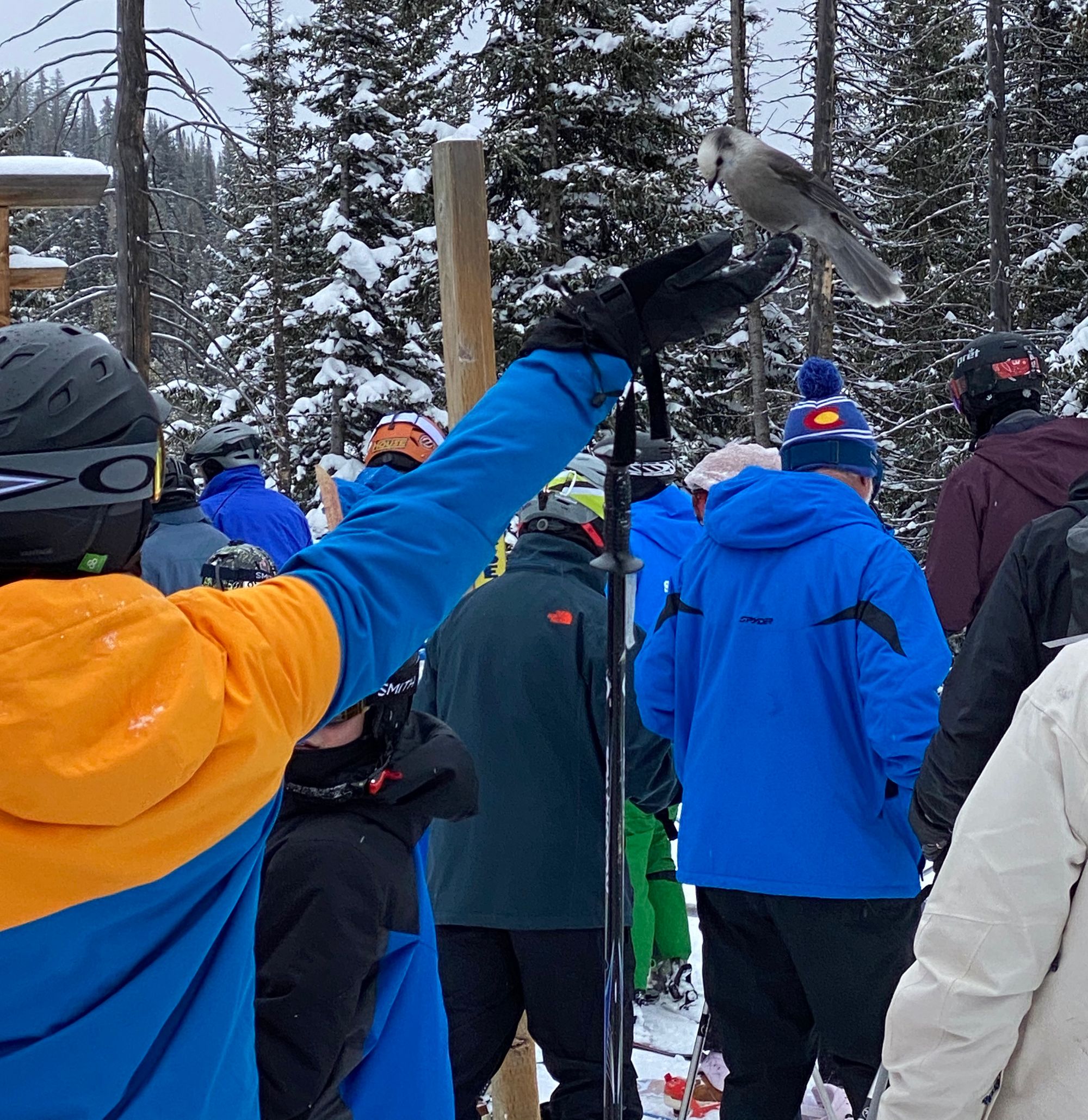 Lowdown on Lodges
The two lodges that I've spent time in at Steamboat are the Thunderhead Lodge at the top of the Gondola and the Four Points Lodge at the top of Four Points Lift. All lodges can get crowded around lunch time so it's best to go at off times before 12:00 pm or after 2:00 pm. Ikon passholders get a slight discount (10%) off of food. You can bring your own lunch into either of these lodges without a problem. I've also eaten the resort food at both, the food is expensive but tasty - and there is a surprising amount of variety. Both have water stations, coffee bars/grab and go food options and full bars.
On this trip we took our break, at Thunderhead Lodge - known for its fantastic views, there is a sign on the porch that it can be fun to take photos with (although it was truly a white Christmas with no views while we were taking a break). There is also gear storage and gear shop here. The cafeteria is on the top floor so just be ready for some stairs. (There may be an elevator, if so I've never taken it).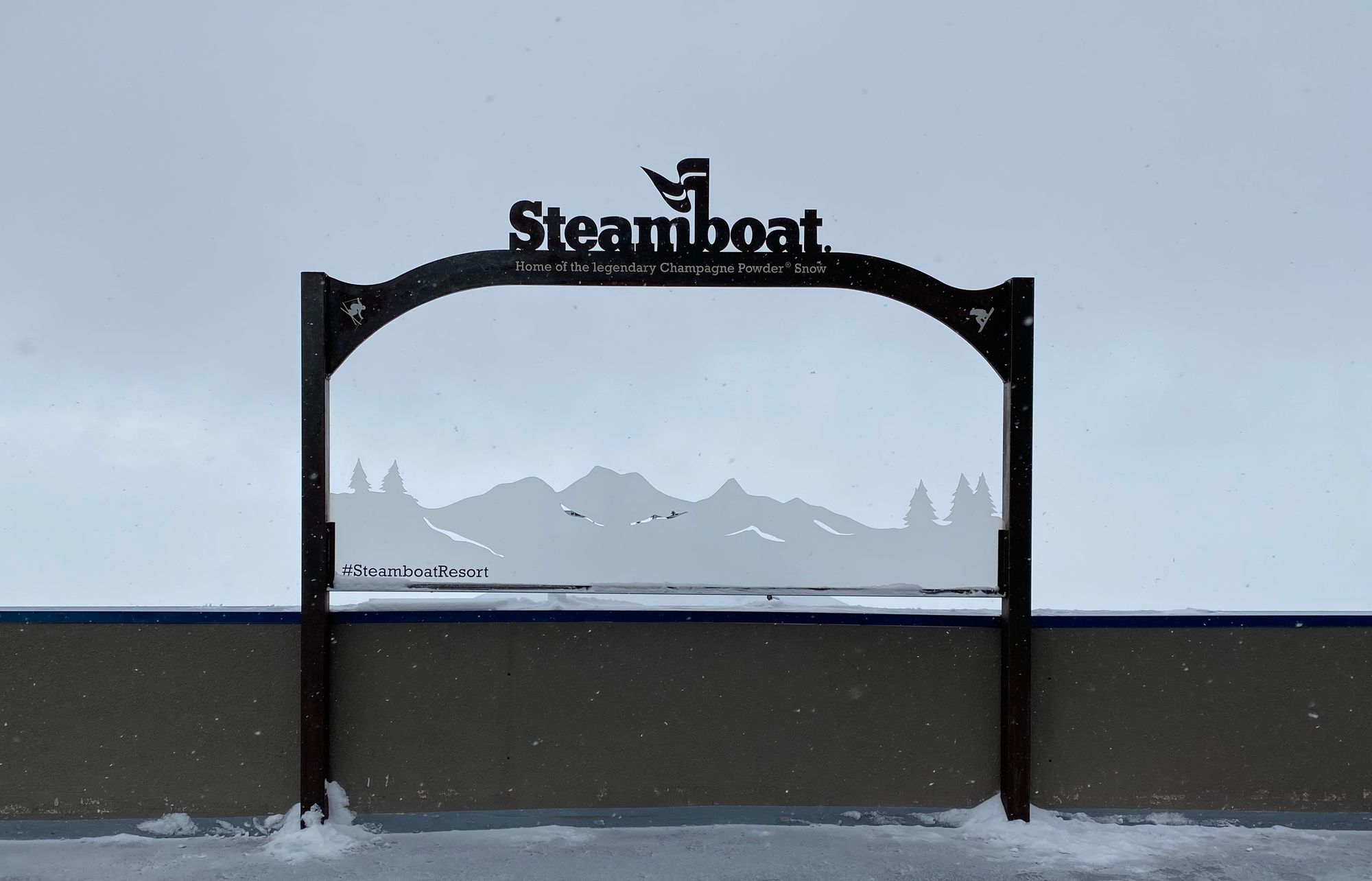 Last year, I took a few breaks at Four Points Lodge - it's two floors, and there is a popular and prominent elevator between them. It's smaller than Thunderhead but good for a faster stop.
Jacob also told me about the "Taco Snowcat" or the official name is the Taco Beast the Snowcat Mountain Food Truck. We didn't spot it this time, likely because it was a Wednesday. It's only open Thursday to Monday, and next time I will look up the daily location via @TacoBeastSBT on Twitter. I love tacos, I love skiing - what could be better than combining them?
Accommodations
For quick one night trips, I have always stayed at the Hampton Inn & Suites in Steamboat Springs. It's clean, has a free breakfast, reasonably priced and the best part is the shuttle to the mountain. You can put your ski boots on at the hotel and take their free shuttle to the mountain. Then when you're done skiing just give them a ring (or text) and they will come pick you up. The convenience of the shuttle is really the reason to stay there (other hotels likely have shuttles but since this worked for me once, I just keep going back). I also usually have some Hilton Honors Points to spend from past work travel, and the value for redeming here seems to be good. What really impressed me this time was how kind and attentive the staff was, even during just our short 1-night stay, it was noticeable. This time we also noted that there is a small fridge and microwave in each room, which is a nice bonus.
You should drive-by the Rabbit Ears Motel to admire the quirky sign, but can't say based on the look of it that I would recommend staying there. However, Google has this 2-star hotel rated with 4.5 stars from over 300 reviews.
Staying at a hotel with a shuttle is just one option. Last year, my parents and I went to Steamboat on trip with some family friends for a few days. We stayed in a condo on the free bus line, which I would highly recommend. You'll be able to cook some of your own meals, won't have to worry about parking at the mountain, and the bus routes are very easy to navigate.
Also, if you're staying in Summit County and still want to explore Steamboat, it's totally doable (in good weather). Last year, I did a day trip from Summit County, with my sister and brother-in-law. It's about 2 hours each way, so like going from Denver-area to Summit County with a bit of traffic on a normal weekend day-trip.
Whether you're staying in Steamboat or just taking a day-trip, we highly recommend checking this mountain out!