"Why did you come here?" - guy on the lift
"It was on our pass, we wanted to try it out! What's good here?" - Jacob
"Uhhhh… Those trees are open but pretty bad, so this groomer is probably it. It's pretty icy. That part over there is pretty good but it's closed. This has been a rough early season." - guy
Jake's Hot Take
Good for beginners, families, and those who can't drive the extra hour to Crystal. Otherwise, skip it.
Trip Date: December 22, 2019
Travel Info: 1 hour drive from Seattle
Days Skied: 1
Lunch: Packed (cold pizza again)
Après Enjoyed: Nope, headed back to Seattle
Fresh Snow During Trip: No
In This Blog: Getting There (and Back), Skiing
Getting There (and Back)
It's a short drive from Seattle, much closer than Crystal! A bit under an hour of mostly interstate driving. We took the rental truck again, but this time there were four of us - Jeff's girlfriend, Juliana came too. Jeff drove again and we all had a nice conversation on the way.
Parking was incredibly easy, we got a spot right outside the lodge and walked in. Summit at Snoqualmie employees were handing out free candy. That day was "Santa Skis Free" day, anyone in a full Santa costume got a free lift ticket, so we saw quite a few Santas out there! If we didn't have season passes, we may have taken advantage of the fact that any of Santa's helpers received a 50% off ticket (Hannukah Harry counted as a helper).
Getting back was easy too, we did stop for Jeff and Juliana to return their snowboard rentals to Seattle Ski and Snowboard. Jeff was able to rent for two days for $75 which seemed very affordable, and Kelli liked the painting on their shop door. We also stopped at Chocolati Cafe on the way back for hot chocolate, I highly recommend the house chocolate with hemp milk. Get a biscotti to dip into it too.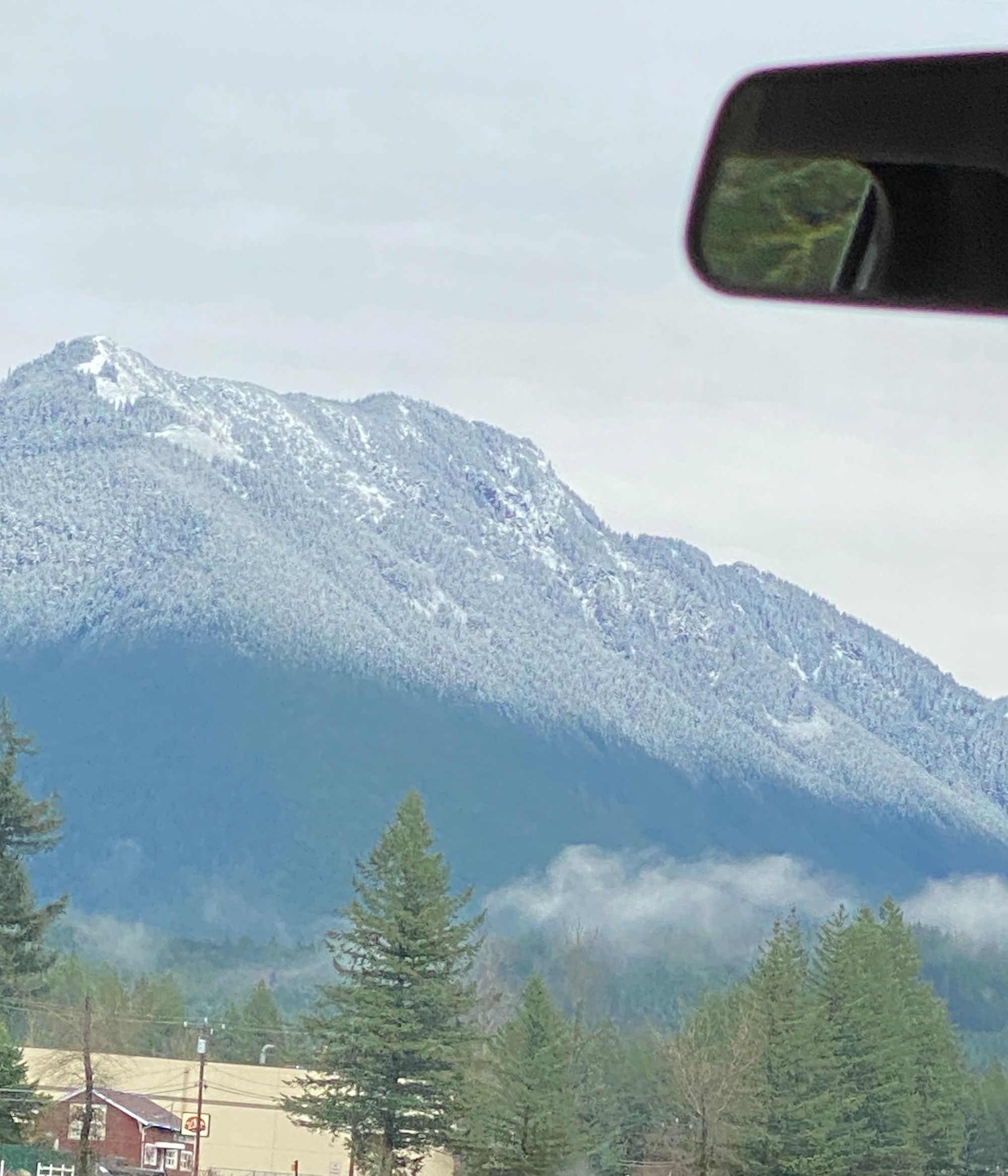 Skiing
Summit at Snoqualmie seems like a classic small mountain, great for beginners, families and people who live right here who want to take some turns. The lodges are huge and there are tons of tables to eat a packed lunch (a Powerade from the vending machine is $4 though). It's probably more enjoyable for advanced skiers when Alpental is open (their website says, "the area provides some of the steepest and deepest runs in the region"). Since we didn't experience Alpental (which based on the map below does look pretty sweet) we think early season it really is a small family mountain (and perfect for that).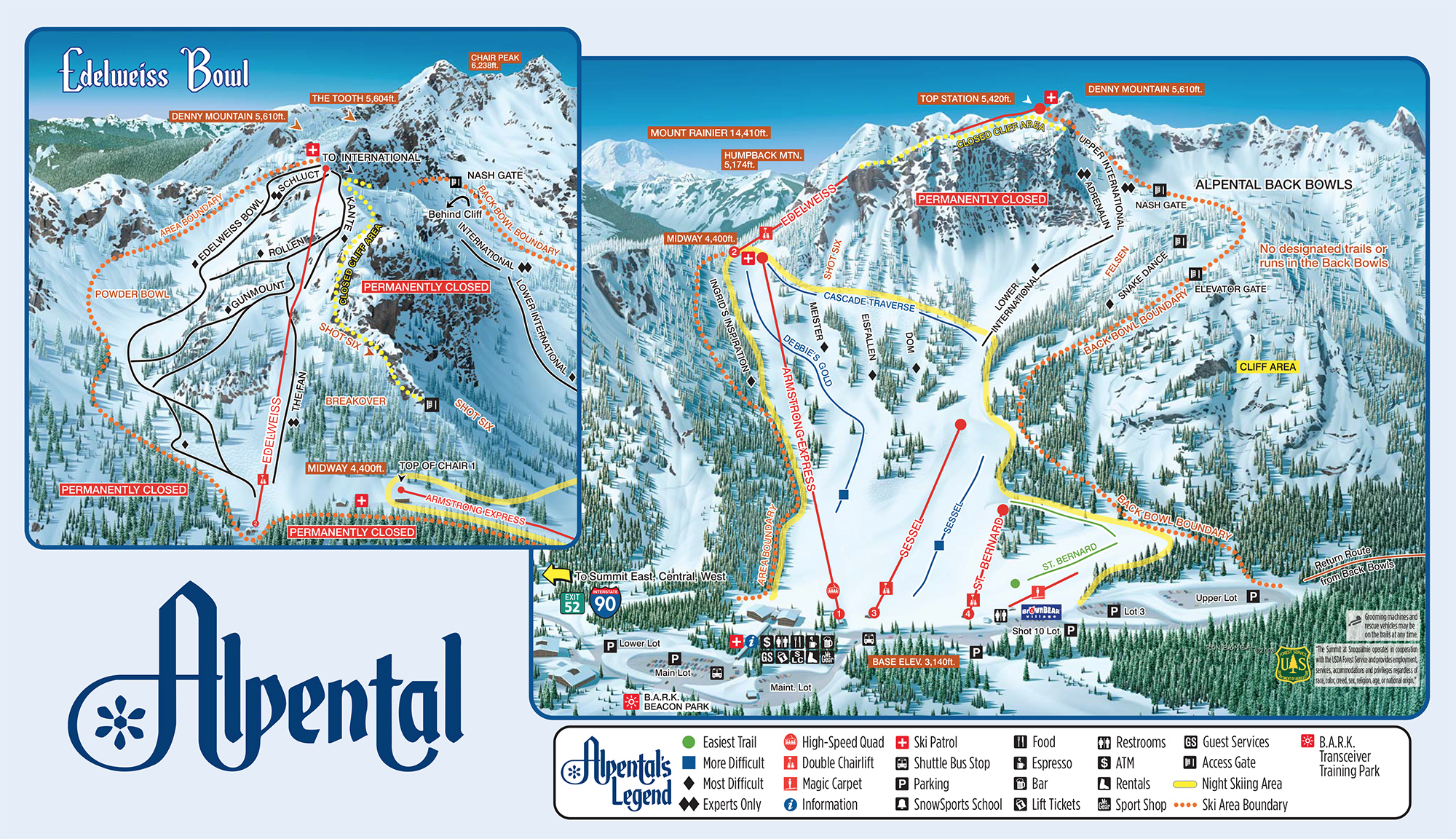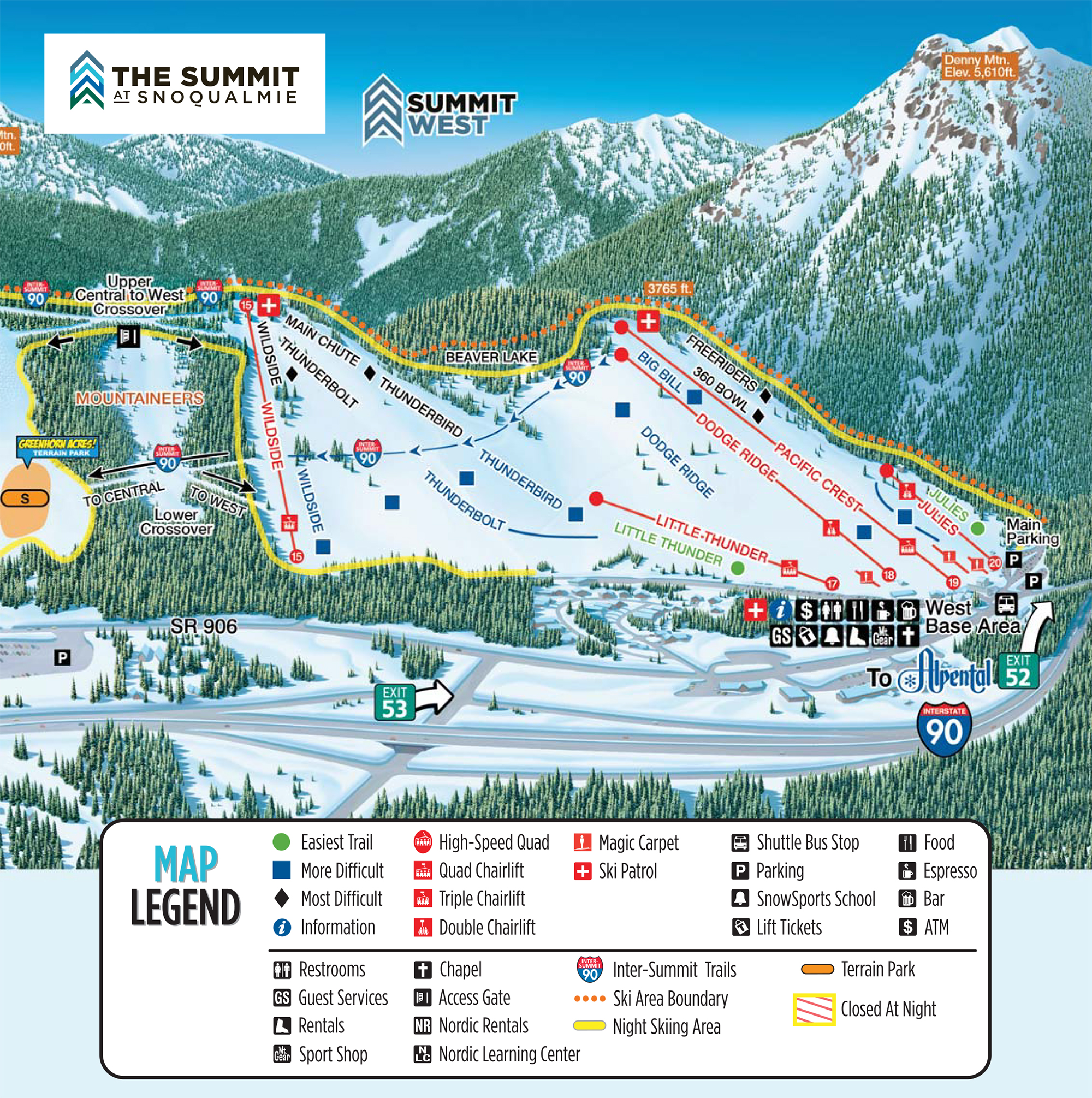 We liked that they have a couple classic two person lifts. On our first lap up Pacific Crest, we chatted with a local who lived close to the mountain. His son was in a training session to become an assistant ski instructor, so he was taking a few laps. He basically apologized for the conditions, saying they had only opened the week before and this was some of the worst early season conditions he had seen.  

Unfortunately, it had rained the night before, so only the groomers were tolerable. And the groomers were full of beginners, instructors learning how to teach and racers practicing drills. The guy we met on the lift told us to stay clear of the only non-groomer saying it was not very fun. But we made our own fun! I learned to ski on one ski, which is really hard, and Juliana had her first ice day… I don't think she loved it. It was only her third day snowboarding, and it was a great small mountain for beginners - a bigger mountain would have cost more and been a waste. Little Thunder was great for her to practice, Dodge Ridge was a bit too steep and bumped up.
The views skiing down the mountain were fantastic, so we enjoyed those too. Except when it was foggy - then you couldn't see much of anything.