"I'm going to Australia in August to ski Thredbo" he said as we waited in line for the Timberline lift at Copper. It was our first date and I thought to myself - well, he definitely checks the 'loves to ski' box.
- Kelli
Quick Look
Days Skied: 2 (August 12 - 13, 2019)
Mode of Travel: Rental Car from Sydney
Lunch: Packed
Après Enjoyed: Yes
Fresh Snow During Trip: No
Full Report: Getting There (and Back), Accommodations, Food and Drink and Skiing!
---
Getting There (and Back)
Thredbo Village is about a 6-hour drive from Sydney littered with dead kangaroos and wombats. All I wanted to see was a live kangaroo and that didn't happen until the way back.
We decided to break the drive up as part of our larger trip to Australia and stop halfway in Canberra on the way. We wanted to experience the capital of Australia (and not spend 6 straight hours in the car each way). Our Australian friends said Canberra is not exciting, but we enjoyed the stop! It's a nice little planned city.
We highly recommend renting from the Mascot Enterprise, it was 5 minutes from the airport and much less expensive than the airport Enterprise. The people working there were friendly, although they also questioned our Canberra stop (really, it's a very pleasant city!). We rented an all-wheel drive Subaru Forester due to the winter driving rules. Neither of us had used chains, so this was easier for us, but another option is to rent chains in Cooma, which you drive through on the way. You can stop at Rhythm Snowsports, who rent just about all the ski gear you could want, and chains (and gas, and they're a convenience store, with a food truck, and coffee…). We rented helmets as it's not a good idea to put them in a carry on, and I once forgot mine in the overhead compartment of a plane so I couldn't guarantee after a 14-hour flight I would remember it.
Our plan was to leave Canberra at 6 am to be able to make the stop in Cooma, then hit the slopes mid-morning. While we did arrive at 9:30 am to the entrance to the National Park and bought our pass, finding parking was a nightmare - it had just snowed 130+ cm and although it was a Monday, all day and overnight lots were full. It's A$29 to enter the park for 24 hours, and make sure to pay for your full stay when you enter, as it's a long drive back from the mountain! The parking at the resort is free once you've paid for the pass. The mountain has overnight lots because the village is built on a hill with limited parking, but you can't sleep in your car. We ended up finding a spot on the side of the road right next to the good side of a "no parking" sign, and had some Australians tell us we "probably" wouldn't get towed because there were too many cars, so we made our way to the slopes.
We had a great couple days skiing in Thredbo, you can read below about our accommodation mishap and our recommendations if you are plan your own trip.
Since we cut our original stay in Thredbo Village short we had time for a more scenic drive back to Sydney. We drove back through Cooma and then went east through some hilly and windy roads which Jacob enjoyed driving. We saw our first live kangaroos on this part of the drive! We continued until we felt like stopping, which happened to be a small (fairly sleepy) town of Narooma. To put things in perspective, Jacob was craving a hamburger and the place google maps recommended for a hamburger had run out of them. The next morning we enjoyed our scenic drive back to Sydney and returned the rental car.
Accommodations
Lodging in Thredbo is a pain, because it's a little village and a lot of it's tiny lodges are run by "ski clubs".  It's not like the bigger resorts in the United States where you can conceivably find a place a bit off-resort but still close, the nearest actual town, Jindabyne, about 30 minutes away. Many of the clubs are members-only, but some allow non-members to book a room or bed for a fee.
We booked one of these lodges, ours had a U30 price (or under 30 price), which we appreciated although did not understand the reason. We had planned to stay two nights, but only ended up staying one night due to our accommodations not being what we expected. Here are the questions we wish we asked via e-mail before booking our stay (seeing how long an e-mail response takes will be telling as well about the responsiveness of the club):
Do you have overnight parking available? Do I need a key to access it?
Do you expect your guests to do chores?
Are your bathrooms shared?
Can I lock my bedroom when I leave?
Is the bed made or just linens provided?
Are there any large parties of members booked the same time with young children?
What are your house rules (no shoes, quiet times, etc.)?
Do you rent beds or rooms?
Our stay was not what we are used to with our trips to bigger operations in North America, but it certainly was an adventure and we hope you can learn from our missteps. Even walking to/from dinner on snow covered sidewalks and stairs built into the hill was a unique experience, at one point sliding down the railing was easier (and I argued, safer than taking the steps.)
In hindsight, we would have stayed at House of Ullr, which is a bit more traditional lodging choice while still being pretty reasonably priced. Jacob booked this trip before we met, so he had chosen a place that allowed for reasonably priced single bed accommodations (most lodge bookings are non-refundable so I just was added to the reservation).
In addition to asking the questions above before booking, we recommend staying for just one night, the middle night - there is no real benefit to staying after the second day skiing, may as well head out of town.
Food and Drink
We ate dinner and got drinks one night at The Mad Mexican, which is a great little Mexican-themed restaurant in the basement of House of Ullr. We shared some tacos and mixed drinks, and Jacob got to try his first churros. Everything was delicious, but considering you're in a pretty remote spot - it was a pretty expensive meal.
On the mountain, we got some drinks at Bullwheel, which is underneath Eagles Nest. The latter bills itself as "The highest restaurant and bar in Australia", but it was too fancy for us so we settled for second highest instead. Cheap schnapps shots (A$5 during Schnappy Hour - the distillery Wildbrumby is just outside the resort) and great beers on tap, Jacob gives it a big thumbs up.
Other than those spots, we mostly packed our own meals for skiing to save a little money and avoid waiting in any long lines for food. There are a lot of picnic tables at the base of the mountain so it's easy to grab a spot to eat. We highly recommend packing some Tim Tams as lunch dessert!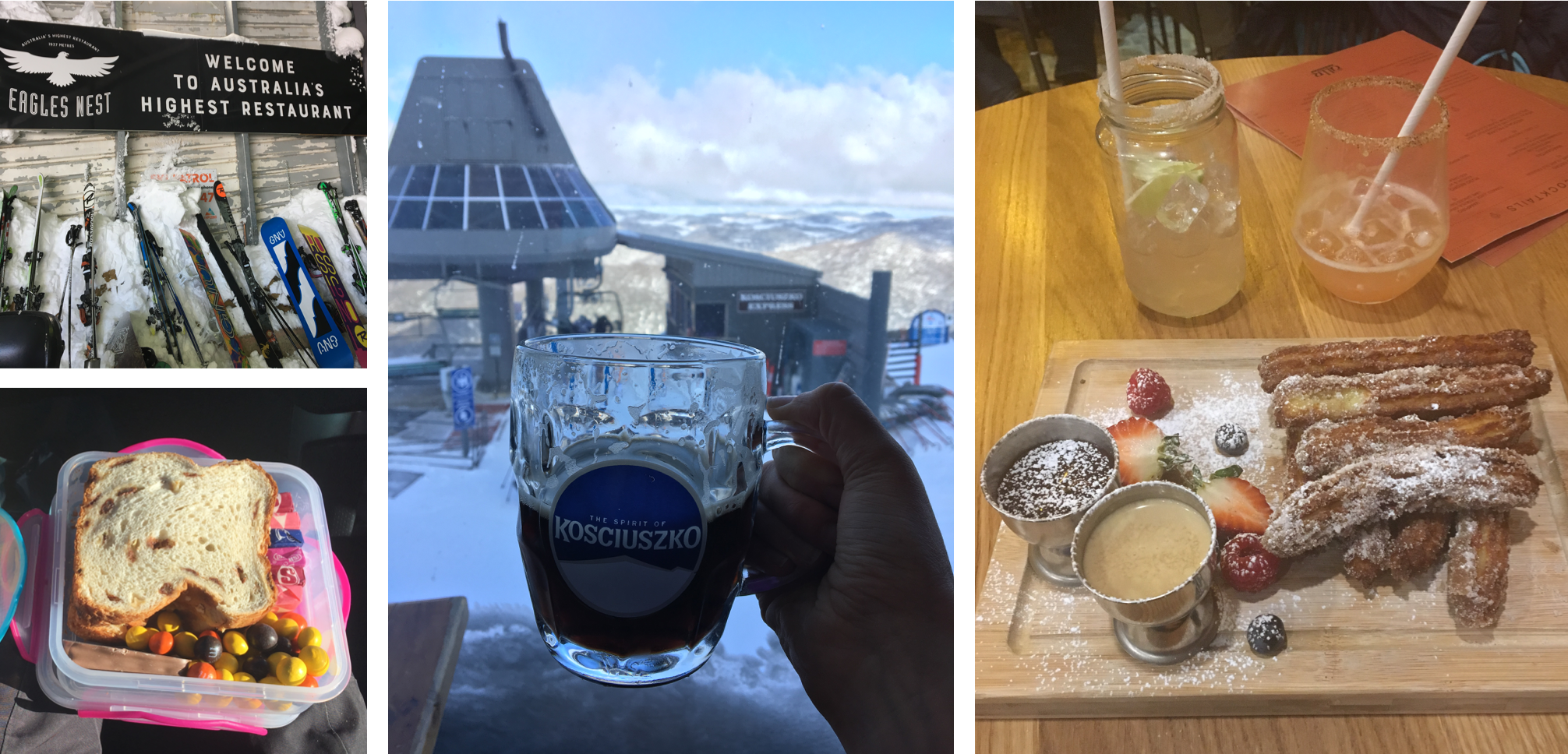 Skiing!
Now to the good stuff! We spent a lot of time on Anton's T-bar and the area below it, and lapping the Kosciuszko Express. Anton's takes you to The Tunnel and Michael's Mistake, which are both neat little black runs that are worth a few laps. Off to looker's right The Cruiser lift leads to some okay mostly-blue terrain, and a very fun lift line (The Bowl) that you can continue under the top half of Merrit's Chairlift, which is a lot of fun.
There is also a series of two T-bars off the top of Kosciuszko: Basin (which only really serves green terrain and takes you to Karels) and Karels, which takes you to Australia's highest lifted point... a whopping 2000 meters, putting it about 2,000 feet below the base of Arapahoe Basin. The area up there was pretty windblown, but it's pretty clearly the hardest stuff on the mountain and would be great with a lot of powder.
There's some really fun stuff under Kosciuszko: Cannonball, Bluff, Kareela Cross, and Little Beauty are all a blast. Great little black cruisers with bumps that are just challenging enough to be interesting and some fun turns to take at speed.
But really, the best terrain is under the Snowguns Chairlift, specifically the section above the middle loading/unloading station. There's an area off the top called Bushranger, which is just a collection of fun black tree runs through the eucalyptus grove. There are a bunch of fun lines with little jumps off rocks, hard turns through trees, and moguls to keep you interested.
We lucked out with the recent snow, and know it is not something you can plan. However, if you are going to travel from afar to hit up Thredbo, we highly recommend July or early August, just in case the season is light on snow.